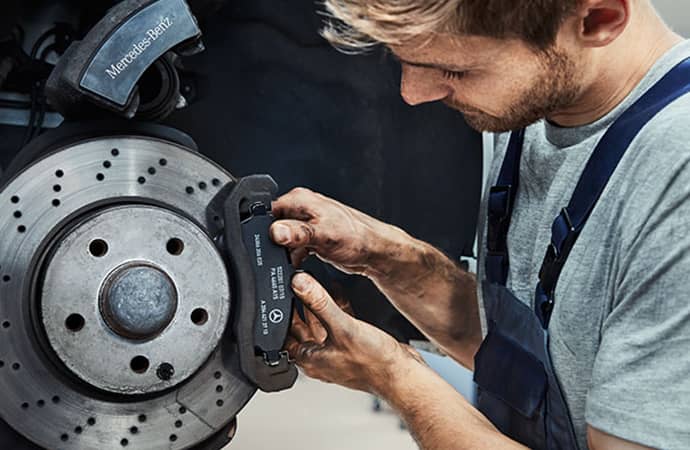 At Mercedes-Benz of Shrewsbury in Shrewsbury, MA, we recognize that your investment in Mercedes-Benz represents your commitment to quality in everything you do. We share that commitment when it comes to critical automotive service like brake maintenance and repair. Because brakes are so vital to your safety, we encourage our valued customers to let us perform the regular brake maintenance that can minimize your need for repairs.
The importance of keeping an eye on your brake pads
The elements of your Mercedes-Benz braking system that can wear out most rapidly are your brake pads. As you may be aware, your brake pads are steel plates that have friction material carefully bonded to the surface. These pads are designed to press up against the brake rotor, providing the friction that brings your vehicle to a stop as your drive around Worcester or Boston, MA. These are the components that get the most wear-and-tear.
Extending the life of the brake pads in your Mercedes-Benz
The life expectancy of your Mercedes-Benz brake pads is largely contingent on the driving conditions you typically face as well as your own individual driving style. When your Mercedes-Benz faces a great deal of stop-and-go driving in an urban setting, your brake pads can wear out much more rapidly. There may be little you can do to minimize that. You can, however, extend brake life by avoiding the practice of hard, fast stops as you drive.
Ask us to monitor your braking system
Many of our valued customers ask us to inspect their braking components with every oil change. This is an excellent way for us to spot any trouble signs early and recommend brake pad replacement soon enough to avoid also causing damage to your brake rotors. That, of course, is a more expensive repair we want to help you avoid.
Why brake pad wear-out can jeopardize your rotors
When the brake pads in your Mercedes-Benz wear out, it can cause the rotors to become warped or to simply break. What's more, when brake pads sustain excessive wear, the heat from the braking friction process doesn't disperse properly. That can cause the entire braking system to overheat and may even lead to brake failure. It can be fairly expensive to resurface or replace the brake rotors and replace pads, so replacing pads early is essential.
Telltale signs your brake pads need some attention
The braking system in your Mercedes-Benz can give you early warnings in the form of a high-pitched squeaking or squealing sounds. That's the sound of your brake pads telling you that it's probably time to schedule an inspection and very possibly do brake pad replacement. When you are assertive about this kind of Mercedes-Benz maintenance and repair, you allow us to help you enhance your vehicle life and help assure your safety.
Other Mercedes-Benz brake services we can offer
It's inevitable that the braking components in your Mercedes-Benz will gradually wear out with normal, everyday driving. We can help avoid premature wear-out by providing brake service that includes cleaning and lubricating the brake pads and brake discs. In many cases, that can help avoid the expense of having to do a complete replacement. When brake repair is needed, our factory-trained technicians will give you their best.
Count on us for the highest level of brake maintenance and repair
We are always dedicated to providing you with exceptional service, especially when it comes to critical safety components like your brakes. Ask one of our service advisors for additional recommendations on how to maintain the integrity of your Mercedes-Benz braking system at Mercedes-Benz of Shrewsbury in Shrewsbury, MA.
Mercedes-Benz of Shrewsbury also offers these great amenities:

Hours
Monday

9:00 am to 6:00 pm

Tuesday

9:00 am to 6:00 pm

Wednesday

9:00 am to 6:00 pm

Thursday

9:00 am to 6:00 pm

Friday

9:00 am to 6:00 pm

Saturday

8:00 am to 5:00 pm

Sunday

Closed