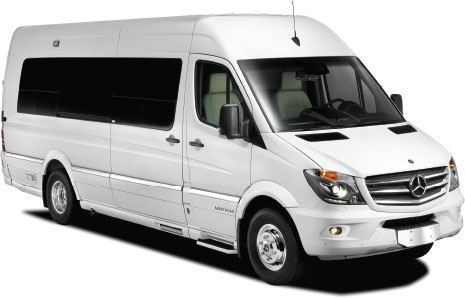 Airstream and Mercedes Benz have come together to give you a high quality vehicle that is not only functional but complete with all the amenities that you've come to expect from Mercedes-Benz. 
Performance: 
This Sprinter, though large inside, handles in a way that will give you the Mercedes-Benz driving experience. Complete with a Mercedes-Benz 3.0L V6 Turbo Diesel and an estimated 18+ highway MPG, this car is not only powerful but incredibly fuel efficient. Still can't believe it? With 5,000 pounds of towing capacity, this car certainly will handle any towing need you will encounter. 
Design: 
The Autobahn styling exudes sophistication and luxe. From it's sweeping exterior lines to its rich color variety to its Ultraleather interior. This car is nothing short of a visual marvel. Every seat in the main cabin provides individual USB and 110V power outlets, heated seating, power footrest, hide-away work desk and audio and lighting controls. Ensuring the functionality as well as the comfort of the ride. 
 Learn more by following the link below!