Welcome to Mercedes-Benz of Shrewsbury
Mercedes-Benz of Shrewsbury is proud to offer quality Mercedes-Benz vehicles. With the latest models like the C-Class,E-Class, GL-Class and S-Class, we carry vehicle to fit everyone's need. Come over and visit us at 760 Boston Turnpike Road and test drive a new or pre-owned Mercedes-Benz. Our goal is to provide a pressure free buying experience that you will actually enjoy.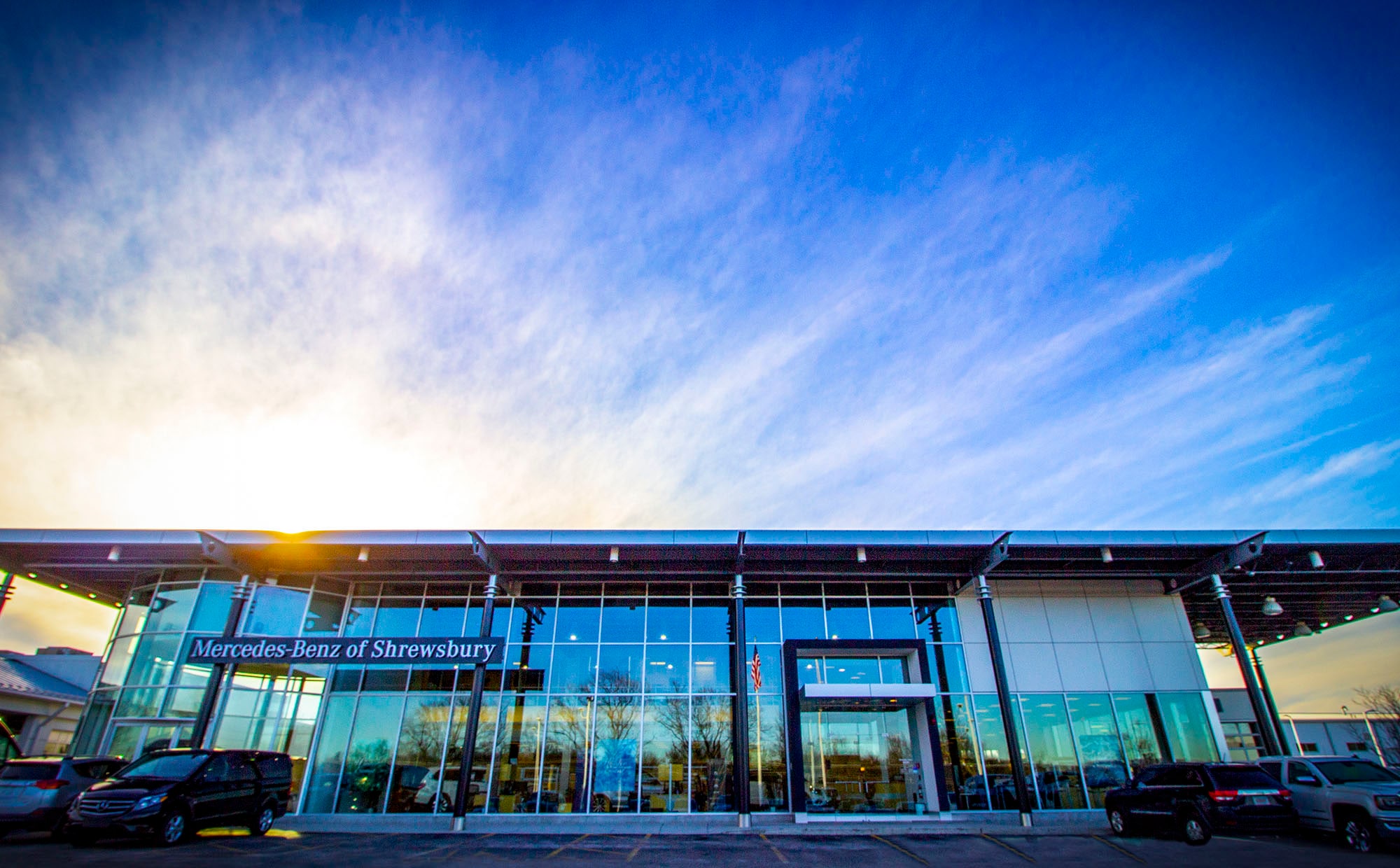 Your Local
Shrewsbury
Mercedes-Benz Dealer For All Your Sales, Service, and Parts Needs
Mercedes-Benz of Shrewsbury provides exceptional service and selection for drivers in and around Worcester County. We do our part to help local drivers achieve an enjoyable ride, both by offering a vast range of current Mercedes-Benz models and through repairs and parts for older vehicles. Whether you are in the market for a Mercedes-Benz or prefer to extend the life of your current vehicle, you can count on our experts for wonderful service.
We Can Help Find the Right Mercedes-Benz For You
With so many sophisticated Mercedes-Benz models on the market, it can be difficult to choose a vehicle that is perfect for you. The incredible selection at Mercedes-Benz Shrewsbury offers numerous choices including the ultimate luxury sedan since the 1950's, the Mercedes-Benz S-Class or the perfect fusion of luxury and performance with the Mercedes-Benz AMG line. Up your personal cool factor in the Mercedes-Benz E-Class convertible, which attracts attention on the open road. Be prepared for any terrain in the Mercedes-Benz GLE 350 If performance and style are of chief concern, you'll want to get the AMG Package on the Mercedes-Benz C-Class. Once you've selected your dream vehicle, you'll need to decide whether you want to purchase or lease it. Our friendly team of specialists will help you make a decision that best fits your unique needs. To learn more about our vehicle selection and financing options, call to schedule an appointment or visit 760 Boston Turnpike Road in Shrewsbury any time for a test drive.
Information on Mercedes-Benz Vehicles
The ALL NEW 2019 A-CLASS SEDAN
Find The Parts Your Vehicle Needs at Mercedes-Benz of Shrewsbury
Even the best of vehicles eventually succumb to general wear and tear. Fortunately, the experts at Mercedes-Benz of Shrewsbury know what it takes to get vehicles running their best. They also recognize the role regular maintenance plays in keeping your car on the road as long as possible. From new Mercedes-Benz parts to maintenance service, you'll find it all at Mercedes-Benz of Shrewsbury.
Visit Mercedes-Benz of Shrewsbury for All Your Automotive Needs, Serving Worcester and Beyond
At Mercedes-Benz of Shrewsbury, we are proud to serve Boston and surrounding communities by offering high-end new and pre-owned inventory, affordable financing, and expert service. Whatever your automotive needs may be, you will find the services and resources that you have been looking for as well as friendly customer service.
Shop Online to Save Yourself Time and Energy
Have you ever wished that you could cut down on the amount of time required for buying or leasing a vehicle? At Mercedes-Benz of Shrewsbury, we serve Worcester and beyond by streamlining the buying process with online tools and resources. Westborough drivers will discover that they can enjoy more transparency and convenience by getting started online.
How Can You Buy Online?
When you use our online tools, your buying experience will be highly satisfying and quicker than ever. By following a few steps, you can begin the buying process at your own pace and on your own schedule. You can complete everything from applying for financing to discovering the trade-in value of your vehicle.
Apply for Financing: Filling out paperwork and waiting for a lender's response on-site can be one of the longest and most frustrating aspects of buying a car. However, with our online finance application, we offer a secure form for you to provide your financial information. We will find competitive rates and send you the results so that you don't have to leave the comfort of your home.
 
Value Your Trade-In Vehicle: If you have a vehicle that you would like to put towards your next purchase, why deal with the hassle of haggling with a potential buyer around Boston when you can find a great price with us? Our online trade-in appraisal form allows you to discover the objective value of our trade-in vehicle without the hassle of bartering.
Calculate MPG Savings: By providing information about a potential vehicle, you can see estimated fuel economy costs and plan your ownership expenses accordingly.
These online tools are integrated with our inventory, allowing you to shop our new Mercedes-Benz selection and pre-owned inventory to enjoy a seamless experience. If you have any questions, our friendly sales team is here to provide helpful information and bring a new sense of ease to your buying experience.