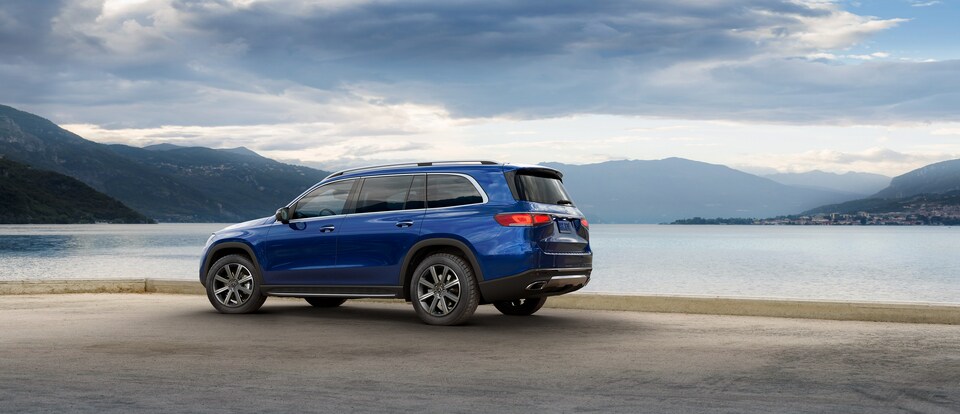 GLS 450 SUV: Luxury. Convenience. Personal Style
Are you thinking of buying a new Mercedes Benz? Have you considered the newest GLS 450 SUV for sale in your search? We have an extensive inventory of GLS 450s in stock here at Mercedes-Benz of Shrewsbury. These SUVs have some serious pickup with their 6-cylinder turbo engine and yet they all carry the unmistakable beauty and value of Mercedes Benz that you've come to expect from your GLS 450 dealership. This SUV will thrill you when you slip behind the wheel, whether you want this ride for everyday errands or commute in Worcester or you plan to travel the highways of Boston. The GLS 450 pricing we offer will thrill you, too.
Luxury Without Sacrifice
Big on luxury as well as space, the GLS 450 price compares to other SUVs in its category, yet the other SUVs don't come close to delivering the same value as our dealership's GLS 450. Buy our GLS 450, and you'll find that it's quite capable of finding a road where there aren't any yet. Despite its considerable capability, the GLS 450 for sale in our inventory is still a serious entry among luxury SUVs. Built on the S-Class ideal, you'll find real off-road capability and plenty of optional available bells and whistles. The amenities that made the Mercedes Benz flagship sedan so popular were incorporated into the GLS 450. Touches like massaging front seats, advanced technology, and safety as well as air fragrance systems, are some of the features that make this SUV worth a closer inspection at our GLS 450 dealership showroom.
Features and Options
The GLS 450 has a truly luxurious interior. It's third-row seating is adult-sized, and all the gadgets and toys you can think of are offered in this SUV. You'll be amazed that the GLS 450 pricing includes these features and options:
Air suspension
19-inch alloy wheels
Sunroof
LED running headlamps and taillamps
Aluminum rails for the roof
Power liftgate
Folding, powered side mirrors
Remote engine start
Multifunction, leather-wrapped steering wheel
Wood trimming
 
Climate control that's automatic and dual-zoned
Rain-sensing wipers
Heated and powered front seating
Adjustable driver's lumbar support with side memory
Folding, powered third-row seating
Safety rearview camera
115-volt power outlet
4.5-inch color information display for the driver
Bluetooth
 
Command infotainment system with an 8-inch display
Two USB ports
HD radio
Room, Room and More Room
Do you have a growing family? As your GLS 450 dealership, we can help you out. Perhaps your family has a college-bound student who's taking the sedan in the family off to university, and it's time for you to get that GLS 450 you've been dreaming about? You'll think the GLS 450 pricing is dreamy, too. Or perhaps you're looking to acquire more flexibility in your transportation around Westborough and this luxurious but adventurous GLS 450 SUV is exactly what your family needs? No matter the reason, we at your GLS 450 dealership can help you find the right fit. We stand behind all of our customers and provide you with many options along with a dynamite inventory of GLS 450 Mercedes Benz luxury that made us famous.
Financing Ease
We know you'll be convinced that the GLS 450 is an amazing ride that's a great fit for your lifestyle. So, you'll be happy to know that our financing team goes out of their way to find the right financing or leasing packages for every customer. Want a GLS 450 lease deals? No problem. A GLS 450 special offer? We have plenty of those. Sold already and need GLS 450 financing? We're delighted to help.
We have a large inventory of GLS 450s priced right for you to preview and test-drive at our dealership near Burlington, MA. Did you know that GLS 450 financing is unparalleled in its simplicity? Likewise, our GLS 450 leasing deals are superb. Ask us about either one when you come into our GLS 450 dealership showroom and about our GLS 450 offers, as well. Put our amazing GLS 450 SUV inventory to the test. Ask us any questions you have. Take a test-drive or two. Once you do, we know you'll be impressed by our GLS 450 price, luxury, convenience, and performance. Mercedes Benz GLS 450: your choice for expressing your personal style.