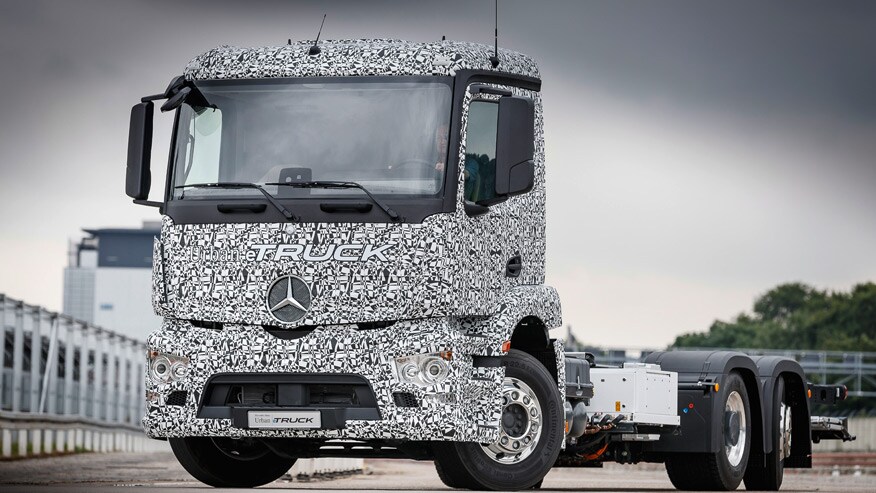 When Tesla CEO Elon Musk announced that the company is planning to produce an all-electric truck called Tesla Semi, it came as a surprise to most people. Although more and more automakers are starting to shift their focus to green vehicles, many believed that there would be quite a while until someone created an electric truck.
Well, as it turns out, Mercedes not only plans to launch an electric truck in the future, but the company has been working on a semi-truck EV for some time now. So, imagine our surprise here at Mercedes-Benz of Shrewsbury when, just a week after Elon Musk's announcement, the German automaker unveiled its Urban eTruck concept.
The Need for Electric Trucks
The more populated the world gets – experts estimate that over nine billion people will live in metro areas by the year 2050 – the higher the need for environmentally friendly products become. People want access to goods but without having to sacrifice the quality of the air they breathe.
These factors pose a new set of challenges to the distribution transport sector. Various cities, such as Paris or London, are thinking about banning internal combustion engines in city centers in the future. That means that logistic companies need to adapt if they want to survive in an environmental-oriented society. They will have to be able to transport goods in metro areas for an increasing number of people while keeping their emission and noise levels to the minimum. One way logistic companies can achieve this goal is by making their fleet fully electric.
Cutting-Edge Technology
Mercedes promises that when the eTruck hits the roads, it will have an operating range of 200 kilometers – more than enough to meet the daily requirements of distribution transport. Moreover, because the technology behind EV is advancing rapidly, the battery costs are expected to drop from €500 kWh to about €200 kWh by the year 2025.
The Urban eTruck is a three-axle car powered by an electric motor installed next to the wheel core on one rear axle. Even though the axle is based on the ZF AVE 130 model, it has been modified to ensure a ground clearance of 200 mm.
The engine can reach a peak power of 250 kW. Mercedes claims that drivers will fall in love with the truck's peak torque of two times 500 Nm.
Due to the design of the energy storage system, the eTruck's battery capacity can be adjusted to meet different specification. The basic model comes with three lithium-ion batteries able to deliver 212 kWh – more than enough to ensure a driving range of about 200 kilometers.
However, the power and driving range can be adjusted to meet the individual requirement of each driver. A sophisticated battery management system maintains the balance between the performance and service life of the truck. More than that, the system converts braking power into electric energy. In other words, every time you decelerate, the electric engine changes into a generator that transforms braking energy into electricity, recharging the batteries. In addition to recovering and reusing energy, this system also decreases the damage on the brakes, helping you keep maintenance costs at a minimum.
If you ran out of battery completely, you could fully recharge them in about three hours.
The Time for Electric Trucks Is Now
Not too long ago, there were limited uses for an all-electric truck. But, due to the advancement made in the EV sector in the last years, both the costs and the weight of an electric powertrain have decreased significantly. Nowadays, companies can invest in electric trucks and still make a profitable use of them in the years to come.
Mercedes-Benz of Shrewsbury imagines a future where emission-free trucks will distribute products in various cities. FUSO Cater E-Cell is already proving the benefits of an all-electric powertrain in a six tons truck. Mercedes is planning to take this to a whole new level by installing a battery-electric powertrain to a 26 tons truck.
Mercedes says that a production version of the Urban eTruck could be possible at the beginning of 2020. So, in less than four years, trucks will be both silent and environmentally friendly. Now, that's the world we can't wait to live in.
Although you can't find an electric truck at Mercedes-Benz of Shrewsbury, you can find plenty of other quality models on our website. And the best part is that you won't have to wait four years until they get into production.
So, go to our website and check our wide selection of new and old Mercedes vehicles.