0
0
1
682
3891
Six Sigma Business Solutions
32
9
4564
14.0
Normal
0
false
false
false
RO
JA
X-NONE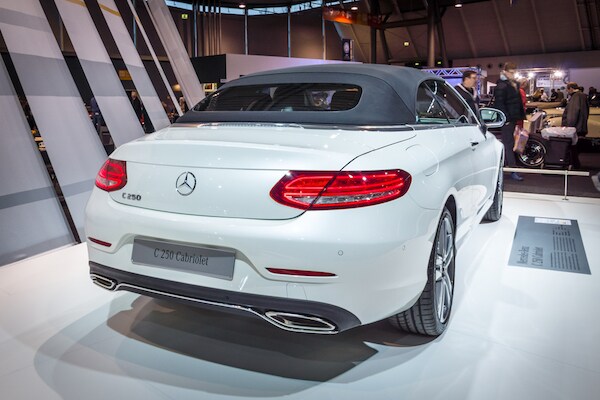 At the beginning of 2016, all the eyes here at Mercedes-Benz of Shrewsbury were at the Geneva International Motor Show.
The reason?
Mercedes was about to unveil their newest generation C-Class. Why should you care so much about a particular car when several other gorgeous luxury vehicles made their debuts, you might ask yourselves. Although the C-Class always been a staple of Mercedes' elegance and cutting-edge technology, it was never presented in as many styles as the competition. The C-Class was only available as a coupe, sedan, and station wagon.
Until this year.
This spring, the latest generation of Mercedes C-Class will also include a convertible. That was a premiere in the history of the German automaker that got us here Mercedes-Benz of Shrewsbury excited. Mercedes didn't just cut the roof off its coupe version, but built an entirely new car from the ground up, and the result is a gorgeous car.
Let's talk about its features, design, and performance.
A Classic Beauty
The Mercedes C-Class Convertible looks very similar to the S-Class Cabriolet. In fact, if you were to put the two next to one other, you will notice similar exterior dimensions with the exception that the convertible is 0.2 inches taller than the cabriolet.
The diamond grill comes equipped with LED lights, and the taillights are LED as well. Both the beltline and the windshield surround have a chrome trim. To give the car a sportier appearance than the coupe, Mercedes has lowered the stance with about 0.6 inches.
Although the Mercedes has a lot of experience with electro-hydraulic convertible metal roofs, for this C-Class it chose to utilize a classic top. The roof, which is crafted from a multi-layer material, can be opened and closed in less than 20 seconds at a speed of 31 mph.
The new C-Class Convertible's top comes in black, dark blue, and dark red. The body, however, comes in 12 paint options.
241 Horsepower of Class
Mercedes put on the newest C-Class a 2-liter four-cylinder engine that can deliver up to 241 horsepower and about 273 feet of torque. The model comes with both all-wheel drive (AWD) and rear-wheel drive (RWD). But don't get too excited about that because, regardless of the number of drive wheels, the car hits the same acceleration and top speed numbers. The new C-Class convertible can get to 60 mph in 6.3 seconds and has an acceleration of 130 mph.
Both AWD and RWD C-Class models come equipped with a nine-speed automatic transmission. There are also several different driving modes, such as Comfort, Eco, Sport, and Sports Plus.
High-Tech Features
The new Mercedes C-Class comes with numerous cutting-edge safety features, such as automatic emergency call, roadside assistance, and Accident Recovery. The Attention Assis system is another high-tech feature that can detect when the driver is drowsy or inattentive. The Collision Prevention Assist Plus triggers a visual and audible warning sign when an imminent frontal collision is detected.
For those of you who are not that fond of parallel parking, the new C-Class convertible also offers a Parking Assistant system which offers semi-automated parking. An around view camera provides the driver more visibility, making it easier to notice any imminent danger.
Price
Since the new Mercedes C-Class convertible is to launch officially in fall, there's no word on the pricing yet. Some are expecting the new C-Class to start at around $50,000 in the United States, but there's no official number yet. The price is expected to be made available late this summer.
According to the automakers, there will also be a Sports Package available, for which the car comes equipped with new bumpers, a grille with chrome pins, new side skirt, sports pedal, 18-inch alloy wheels, firmer suspensions, and larger breaks.
Mercedes said that it intention was to create a versatile car with hints of classic design, enhanced performance, and a new style. The marketing director even called the new C-Class a lineup of dream cars.
The team here at the Mercedes-Benz of Shrewsbury thinks the German automaker did a great job, creating a car that defies all expectations. Cozy, stylish, with a sporty look, and a variety of safety and connectivity features, the new C-Class definitely deserves to be called "a dream car."
For more information about Mercedes C-Class convertible or other models, don't hesitate to visit Mercedes-Benz of Shrewsbury showroom or check our
website
. Our experienced dealers are more than happy to help you.