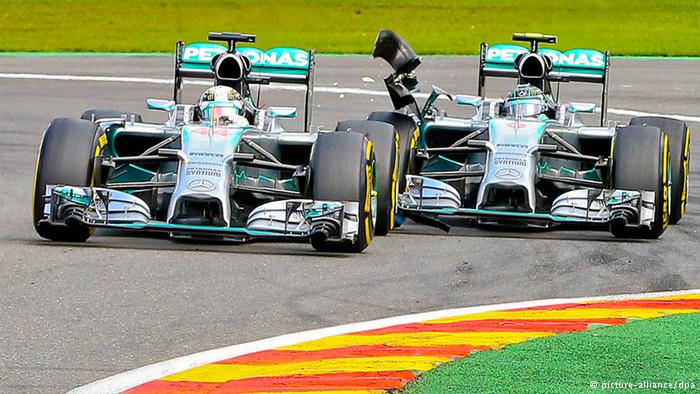 Mercedes is one of those car brands you can say out loud and instantly everyone within earshot knows exactly what you are talking about. A Mercedes is a highly exotic vehicle and a carmaker who works very hard consistently to deliver one of the highest quality luxury cars in the market. What it also does is provide the best in automotive technology. It can be exhausting trying to stay atop an industry that continues to change so rapidly, which his why the Rosberg-Hamilton collisions is making Mercedes executives so angry.
There are times when taking a part in promotional activities furthers your brand name and image, and then there are times when it has all the intentions but falls short, terribly short. That is what happened to Mercedes just last week.
The official comment from Mercedes is that the crash between Nico Rosberg and Lewis Hamilton was "brainless" and had nothing to do with the design, technology, or integrity of the car. The last lap incident at the Austrian Grand Prix has the Mercedes company furious. Hamilton ended up winning the race, but his teammate drug down the team when his front wing broke, and he went on to finish fourth, which puts their team effort down 11 points.
What is the problem?

The stewards in charge of Rosberg's maintenance claims that he should be responsible for driving a car that he knew had sustained damage for more than a lap, thereby ensuring that it would not be able to rank where it should have. Also, it caused serious long term damage to their prize winning race car.
The entire scenario is now under investigation. The Mercedes boss, however, Toto Wolff insists that it was through no fault of Rosberg that the car finished as it did or sustained damage. The accident, he maintains, was not under Rosberg's control, and therefore, a "brainless" situation on his part. The car had a brake problem, which Rosberg could not have been responsible for. Adding insult to injury, the winner, Hamilton was booed by fans while on the podium when he did nothing but win the race.
Car racing is a very big sport, and it takes a lot of hands in the mix not only for race day but for drivers to train for and mechanics to upkeep the race cars. Many insist that the failed breaks not only makes the driver look bad but the over 1500 people who work tirelessly to keep the Mercedes name atop the racing industry. It only took one irresponsible technician to allow the brakes to go over to cause the entire company to look bad. That is not the fault of Nico, but a poor decision likely made in the pit.
This isn't the first time that the duo has not been able to coordinate to get to the number one spot. Just two months prior to the incident at the Australian Grand Prix, the pair almost collided in Spain during the very first lap, which took both drivers out of the running, so to speak. United we stand, divided we fall appears to be lost on this team. However, Rosberg immediately went to task blaming his team member Hamilton for the incident, although there was no evidence that Hamilton did anything but exactly what he was supposed to do.
Rosberg was devastated. When interviewed, he asserted that to get so close to a win, only to be taken out on the final lap, crushed him. Thinking this was going to be their comeback victory, it only added insult to injury. He was sure that they were on their way to winning and then within an instant it was all gone.
Although knowing that the brakes were running a little rough, Rosberg believed that they would sufficiently make it to the end of the race as he intended. When he took his prominent place, he believed that the team had a very strong position. Hamilton too believed that things were in their favor leaving plenty of room for his teammate at the podium while being disgraced by the crowd.
The question remains whether it was a
"
brainless" error because Rosberg should have known better, or a
"
brainless" error because he couldn't have possibly known. What is for sure is that this team will have to do a lot of repair work to put their duo back together.